The Hänsel & Gretel water bottles are a collaboration with Munich bike shop Gutenbiken. We had been thinking about doing bottles together for some time but in early 2023 it finally was about time to begin.
We decided to do a set of two small bottles because Gutenbiken customers often ride bikes with two bottle cages but not enough space for big bottles due to bags for bike packing. Since it was going to be a pair I was thinking of famous duets and had the idea of Hänsel & Gretel. Telling their story but with a twist: Hänsel & Gretel on bikes!
Hänsel and Gretel of the patchwork family want to go cycling but the adults are too lazy so they decide to go on their own. Mum is shouting "Gutenbiken!" – have fun cycling, and also for case of emergency.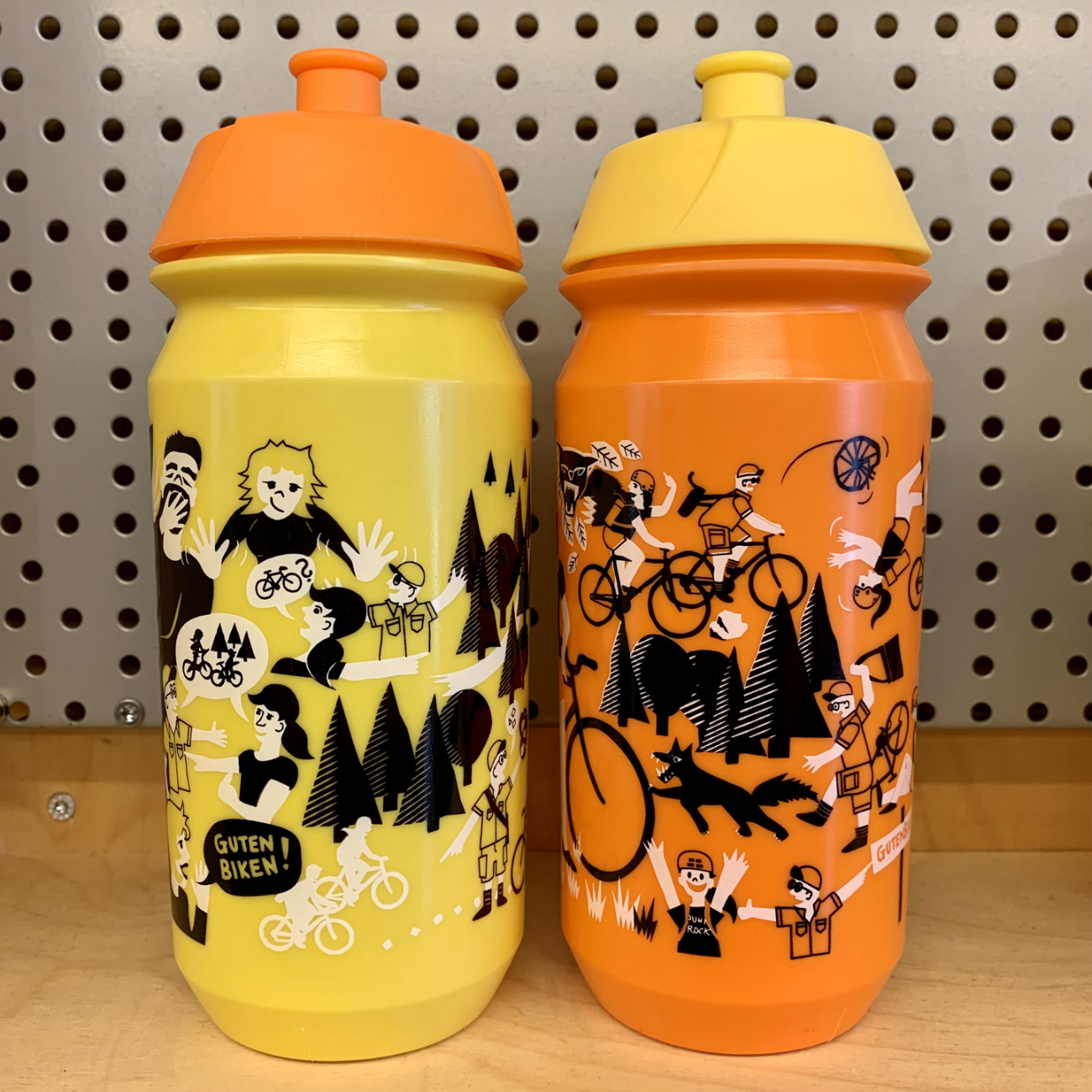 Hänsel has the great idea to use the salt from his giant Pretzel to mark the path so they will find their way back home but the crows are coming and it it all. Great dispear! But never mind, let's go ahead and enjoy riding our bikes!
Part 2 begins with a wolf / monster jumping out of the woods and chasing the two. Hänsel is scared but Gretel is laughing, showing the finger to the beast. That's why she doesn't see the big rock in front of her and has a spectacular spill, Hänsel is shocked. Next Gretel sits on the ground with a bleeding knee, but Hänsel scares away the wolf, swinging his messenger bag like a weapon. The front wheel of Gretel's bike is damaged – what to do? Luckily they spot a sign saying "Gutenbiken". Our heroes follow it and end up in front of the workshop. What will be inside?